Daycos was so moved by a bike build event at an industry conference that we made it an annual event benefiting our community. Last month, employees from Daycos and other local businesses came together to assemble 144 bicycles to donate to area youth. Twenty teams raced to put together the most bikes in the allotted time. Despite this friendly competition, the cause goes much deeper than the surface. 
How it came about 
This concept began when Daycos was asked to sponsor a bike build during an American Moving and Storage Association (AMSA) Annual Meeting. Organized by the young professionals' group at AMSA, attendees teamed up to assemble bicycles that were to be donated. After they were assembled, the bikes were presented to children from the local Boys and Girls Club during the closing banquet. The event was a tremendous success, and Daycos decided to become an annual sponsor of the event at future AMSA Annual Meetings.
Bringing the bike build home 
In 2018 we decided to bring the Bike Build home and host the event in Norfolk, NE. The idea was that this event could make a big impact in the local community in conjunction with our Daycos4Good initiatives. In the first year, Daycos employees assembled 14 bikes and donated them to area organizations that would get them to a local child in need of a bike.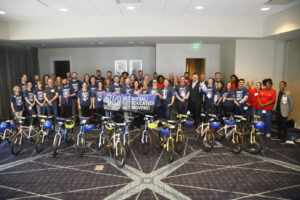 The next year, Daycos reached out to other businesses in Norfolk inviting them to participate, and they sent groups of employees to try their hand at building bikes.  With the additional help, they were able to more than double their efforts and donate 53 bicycles. 
During the pandemic, the annual Bike Build was mostly put on hold. Some Daycos employees still assembled bikes from home and donated them to local kids, but the impact was not the same.  
Letting employees take the reins 
When the Bike Build returned this year, it returned as a 100 percent employee-driven effort. A Bike Build Committee was formed months in advance to spearhead the event. They reached out to area organizations and asked about their specific needs for bicycles, then researched the best places to purchase them.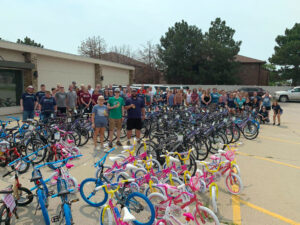 As more and more requests for bikes flooded in, committee members coordinated numerous orders and deliveries. More tools needed to be purchased and more volunteers were recruited from area businesses. Along with the bikes, helmets were also purchased for each of the recipients.  The committee also worked together to provide food and activities for the participants. 
By the time the Bike Build event arrived, the committee had arranged for 144 bicycles to be built, nearly three times the previous record. Four local business joined Daycos in sending employees and donations to help make the event happen. Once the event wrapped up, there was still more work to be done as the leftover bikes were inspected for safety, and delivered.
Long-lasting benefits 
This event exemplifies the Daycos core value of giving back. The importance of giving back to our community is one that is shared by individual employees and the company as a whole. We would love to see this effort expand beyond Daycos and our community.  
We encourage others in the moving industry to consider holding their own bike build event. It has proved to be an excellent team-building exercise and a worthy cause for kids in need. It helps build relationships between coworkers and members of the community, and it is a fun and rewarding experience for participants.   
Additionally, by having employees drive the charitable effort, they feel more connected to the community as well as their workplace.  
We feel that our community is a key reason for our success, and the Bike Build is one way we can help repay our community for the benefits we have received over the years. We look forward to continuing this tradition for many years to come and would be happy to help any company launch their own Bike Build in their community. 
Share This Story