Part of Daycos History
Listening to customer concerns and creating services to help solve their problems has been a consistent thread through the history of Daycos. In fact, our focus on the financial transactions around a household goods move is due to a customer request. Almost 44 years ago, John Day & Associates (as Daycos was known then) was a consulting firm when a customer asked for a review on some DOD household goods shipment files because he feared his biller was missing revenue. As a result of that request, the business soon shifted from consulting to a post-audit service, helping moving companies recover missed revenue. 
Over the last 44 years, that trend has repeated itself many times. We launched our billing service because an audit customer asked if we would just bill it correctly the first time instead of finding missing money after the fact. We offered EDI billing because several customers wanted the benefit of electronic invoicing but didn't have the technical capacity to build the capability themselves. We offered our AccuBill software because we had a customer who wanted to do their own billing, but they couldn't find good, accurate invoicing software.  
MoversPay
Our newest product offering, MoversPay.com continues this trend. A couple of years ago, we were approached by people in the industry who were concerned that when the American Moving and Storage Association (AMSA) became part of the American Trucking Association (ATA), the AMSA 400NG rating software might not be maintained. We decided that we could take the same rating engine we use in our invoicing process that generates over 500K invoices per year and put it online as MoversPay.com. And we decided to offer basic rating capability for free to help the overall billing and agent payment process across the industry. 
Launched over a year ago, MoversPay.com has seen consistent, steady growth in usage. True to pattern, as users have become familiar with what the web application can do, they started to ask for it to do more. Also true to form, Daycos has listened to those requests and continued to add features to MoversPay.com. Over the past year we have added International rating capability, TSP Link to allow service providers to bill carriers, and lots of features to increase the speed and ease of rating. 
New Features
We have just launched a couple of new features to MoversPay.com. The first came out of a request from users to be able to quickly estimate the revenue they might receive from a shipment. So we have launched our 400NG Estimator in beta, which allows users to enter only four data items (from, to, weight, and discount) and get an estimate of revenue for that shipment. Agents can also then use a table to quickly select the amount of revenue for different service items they are entitled to per their compensation agreements. This tool is also available to estimate SIT revenue for shipments.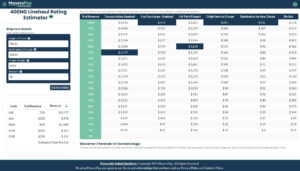 We also heard from customers who wanted a 400N rating engine, in addition to the 400NG and International Tender ratings currently offered. So we have added that feature so users can do fast, accurate 400N ratings for free.  
Finally, we heard from users about the struggle to create a Local Purchase Order (LPO) invoice when required. In response, we have created the ability to create an LPO invoice in MoversPay.com. This capability is available under our Premier level, which we offer at $10 per month per user. 
Our customers continue to be our best source of ideas for new product offerings and updates. We want to create products and services that solve problems for our customers. If you have a problem anywhere in the billing and payment process, please let us know and we will see if we can help. MoversPay.com users can use this link to submit suggestions, or any customer can send us an email at info@daycos.com . 
Share This Story